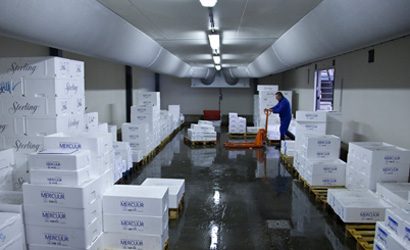 From the North Sea to tropical waters
The fish and shellfish that Zeevishandel Mercuur supplies are caught in domestic and foreign waters. In addition, we provide the best quality fish from fish farms, so we can deliver virtually any type of fish.
We have explicit agreements with suppliers regarding quality and price, so we can offer a fresh product at a fair price. At the fish auctions we will go for high quality, which means that you can provide your customers with perfect fish.
Besides our quality and our broad selection, there are other reasons why we have been a leader for over 30 years.
You can order daily or weekly.
You receive a price list every day by fax or e-mail and you can easily place your order by phone, fax or e-mail.
We always produce according to HACCP guidelines.
Are you interested? Want more information?
Please call us on number 0255-535 174.
This is a selection from our product range